The future-oriented eddy current test system for reliable quality and process control
Clearly structured menus
Intuitive operation using push buttons
Ease of operation with large push buttons on a touchscreen with high resolution
Ease of service with a few, simply replaceable components
Interfaces for communication with system controls
Up to 10 channels at up to 10 test positions
Extensive test result documentation
Patented, fully digitalized signal processing for 41 different test frequencies from 1 kHz to 1 MHz
Higher productivity due to higher throughput speeds (if used with rotating systems)
Operation without air-conditioning system and without an additional cabinet up to 104°F ambient temperature
Higher spatial resolution for fault marking and reduction of false scrap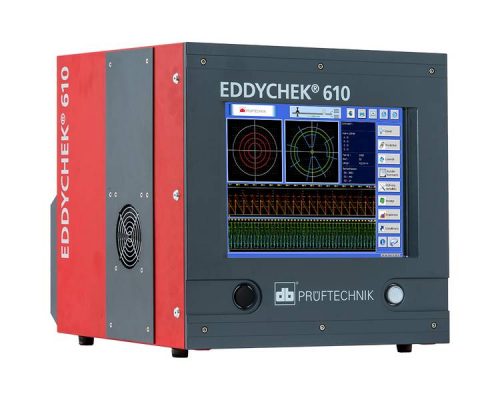 Up to ten completely independent test channels and the patented, fully digital signal processing of the new EDDYCHEK 610 ensure the flexibility required for mastering future test requirements.
Thanks to the modular architecture with up to 6 freely configurable eddy current modules and a generous number of freely configurable inputs and outputs, later extensions and any adjustments to increasing customer requirements can be realized easily.
The new EDDYCHEK 610 and its future-oriented technology for eddy current based semi-finished product testing guarantee a sustainable security of investment.
EDDYCHEK 610 meets diverse test requirements. Classic crack testing with encircling coil in combination with fast rotating system and automatic distance compensation, as well as complicated material mix tests or the welding seam check. Marking and sorting equipment control as well as integration into a system control are included in the standard equipment version. All control information is available regardless of production speed and requested signal resolution.
The intuitive user interface provides easy control of the numerous options. Modern interfaces allow operation and access to all test information in the network.