Compact online diagnostic monitoring
Intelligent alarms adapted to various operating states
Efficient data reduction
Compact and simple installation
Alarming by email or SMS
External triggering of measurements
GL certified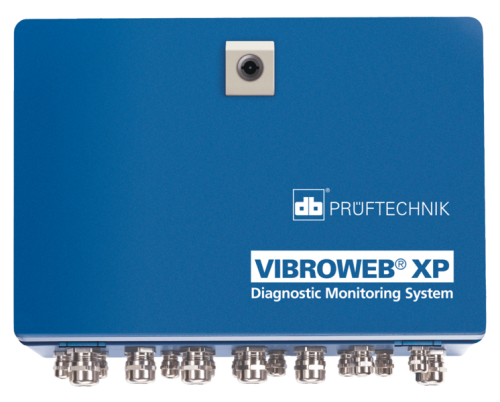 The Online Condition Monitoring system VIBROWEB XP offers data acquisition on up to 8 analog channels. VIBROWEB XP is available in two configurations to measure either ICP-type or CLD-type vibration sensors. This system is highly flexible and can be adapted to existing installations.

Thanks to the compact size, this system can be installed close to production-critical applications in order to keep installation costs low.

High performance diagnostic tasks are carried out autonomously to ensure maximum productivity. VIBROWEB XP measures time signals, overall values, FFT spectra, and much more.

An intelligent algorithm combines up to three "operating" states with the alarm management to ensure an optimal monitoring in every machine operating condition. Alarms adapt automatically to changing conditions during the production process.

Measurements are seamlessly integrated to process control systems via Modbus. Intelligent data management tools allow for efficient data reduction.

Advanced alarm handling tools like variable band alarms and alarm trending allow monitoring specific machine failures like unbalance, misalignment, gear mesh and bearing failures.

As with all of our Online Condition Monitoring systems, you will benefit from free software updates, firmware updates and a low cost of ownership.